Watersports Clothing Guide
Have you ever wondered what would be the best watersports clothing for your activities and adventures? Read on...
Waterwear is clothing designed to get wet. For most watersports you wear more than just a pair of shorts. When it is too warm to endure a wetsuit, but not right for swimwear, waterwear offers you convenience, warmth and sun protection.
Sooner or later, you'll go for a sudden swim during your watersports. With a little knowledge and the appropriate gear this can actually be an enjoyable experience. How do we know this? We do it all the time. Rain never stops play.
Let's Clarify
With watersports clothing there is often some confusion about anoraks, cagoules, ponchos and rain capes. When you look at all the new types of swimwear, it gets even more complicated. Sometimes terms are used for garments that are neither or something different.
There is a purpose for each type of outfit. Some are better for boating and most watersports, others are better for swimming or hiking adventures. Many small design features can make significant difference.
Depending on your chosen sports or activities you may want a short top to move freely and with good swimming ability, or a long garment to protect you from the rain.

Anoraks and Cagoules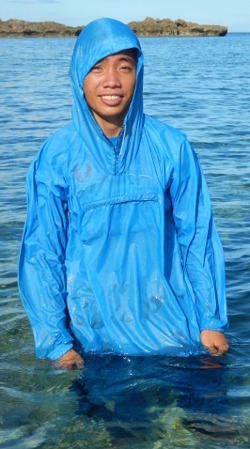 Short windbreaker with hood and front pocket. Comfy and practical.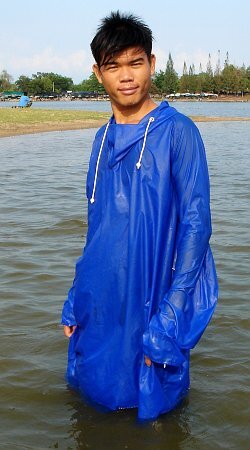 Adventure cagoules are longer than an anoraks.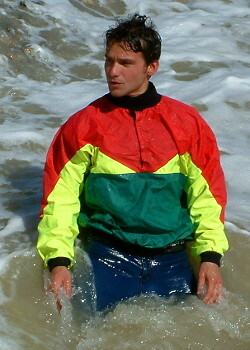 Short canoeing cagoules have wide sleeves at the shoulders for better movement that are tapered near the wrist to reduce water collecting. Great for swimming.
Windshirt and Sunshirts
Windshirts reduce wind chill and improve sun protection for watersports and swimming.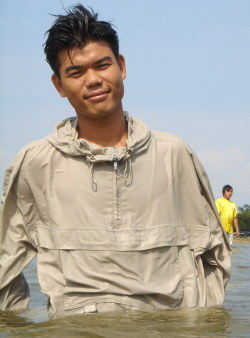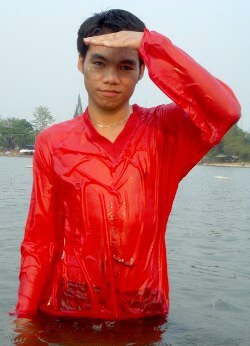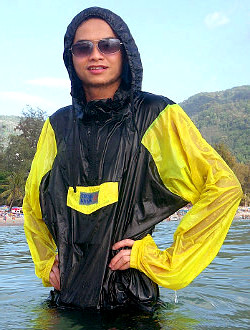 Ponchos and Capes
Great for splashing around in the sun, not so good for fast swimming. Roomy and quick drying. Longer than an anorak, they often go below the knee.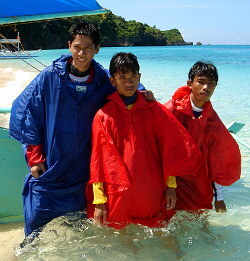 Hiking Capes are closed on the sides for better protection. Some have short or long sleeves. Fairly waterproof.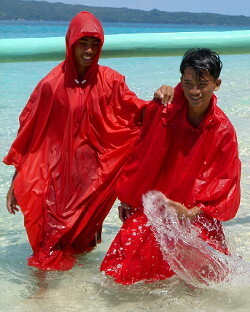 Sun Capes provide airy sun protection on the beach, poolside, and in the water. Breathable, not waterproof.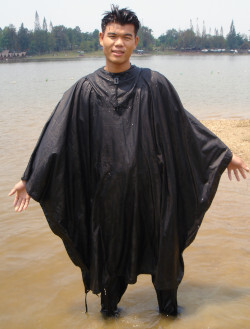 Ponchos are square, versatile and practical. Open on the sides, they can be unfolded as a tent, tarp, or shelter.
Overalls and Water Pants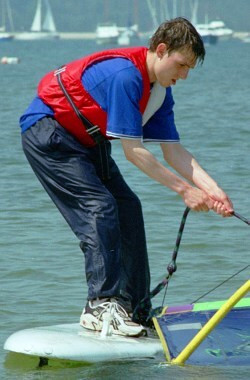 Robust water pants protect your legs from rocks, stingers, and surf boards.
Bib overalls reach to the chest and have braces. No waist belt means more comfort.
One-piece overalls are like pants with an attached jacket. They stay in place whatever you do.
Test Reviews
On this website you'll find tests and reviews of a wide variety of waterwear. Our keen swimmers will check out any kit we get our hands on and write a review with links to suppliers.
First Look
When we see interesting new products we write a brief report for our readers, either as part of an article or on a page of its own. This might happen at a shop, a trade show, or some other event.
Full Reviews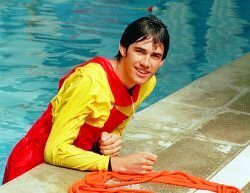 Pool Test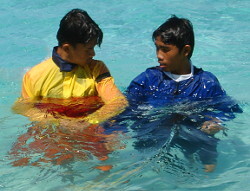 Beach Test
Whenever we get our hands on new watersports gear we test it under realistic conditions for a detailed full review. These get updated over time after we've used the samples for a while.
First we try the products in the pool to see how they fit and feel to check how comfortable it really is. Next we see how it performs during watersports like canoeing, sailing, or surfing, and how good the design is for readers who really enjoy watersports, rather than wear it as a fashion statement.
Manufacturers: Promote !
If you're a manufacturer or supplier of swimming clothes or watersport accessories, send us products for review. You get publicity on a busy website for the cost of a product sample. Reviews carry a clickable link to the supplier's website so our readers can order the products we've reviewed. If a supplier provides more than one item, they get a dedicated section with a company profile.
Affiliate Partnerships
When we come across really good products, we like to share them with our readers who come here to find the best and most original swimwear. If you run an affiliate program, talk to us.